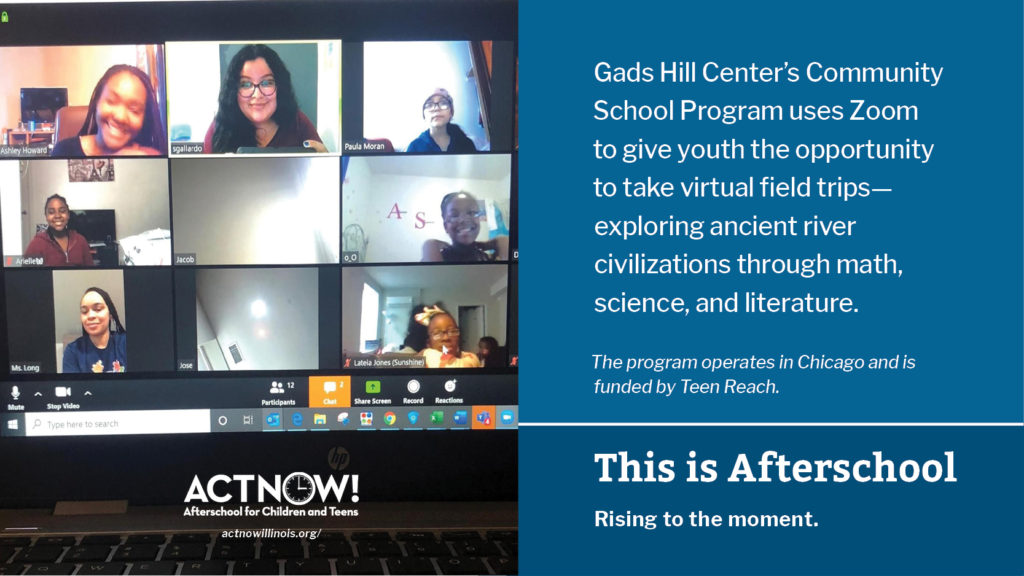 Teen REACH (Responsibility, Education, Achievement, Caring, and Hope) is a comprehensive youth development initiative funded by the State of Illinois, via the Department of Human Services, which provides afterschool program services to high-risk youth between the ages of 6 and 17. Teen REACH program providers work with youth in order to foster 21st Century skills needed in professional and personal environments. Programmatic activities surround topics of responsible decision-making, the ability to work in teams, managing emotions, creative expression and the arts, STEM, and more!
Important Information & Links
The ACT Now Center for Afterschool Learning is ACT Now's new, online learning management system which is FREE and available to ALL of our members! Learners will be able to view live and recorded professional development trainings, access resources and tools that accompany our courses, access a discussion forum to connect with your colleagues and much more! To register and attend all ACT Now and Teen REACH trainings and events, please register for an account here: https://collabornation.net/register/actnowil. Once you have created an account, please visit the 'Events' tab to search and register for all upcoming trainings.
Quarterly Meetings
FY24 Quarterly Meeting #2: November 15th, 2023. You can register here. (Virtual)
FY24 Quarterly Meeting #3: February 14th, 2024. You can register here. (Virtual)
FY24 Quarterly Meeting #4: Multiple dates, In Person

May 8th, 2024: Downstate, Location TBD
May 15th, 2024: Suburbs, Location TBD
May 22nd, 2024: Chicago, Location TBD
Training Board Advisory (TAB) Members
Mellisa Bogard, Boys & Girls Club of Chicago
Tammy Byers, Beyond the Bell
Dr. Lolita Cleveland, Youth Guidance
Dr. Linda Dillon-Taylor, Homework Hangout
Kathryn Holstlaw, Beyond the Bell
Gary House, YMCA of Greater Peoria
Emily Long, Project Success of Vermillion County
Dr. Ikenna Martin, Land of Lincon Goodwill Industries
Gywndolyn Moss, Illinois Afterschool Network (IAN)
Marcola Owens, National Youth Advocate Program
Jessica Simmons, Lawrence County Health Department
Jocelyn Vega, Illinois Collaboration on Youth (ICOY)
Gabriela Zamora, Illinois Collaboration on Youth (ICOY)
General Teen REACH Resources
Please submit your quarterly Periodic Performance Reports (PPR) to Mike Sandidge, mike.sandidge@illinois.gov.
FY24 PPR deadlines are as follows:

Q1: October 15th, 2023
Q2: January 15th, 2024
Q3: April 15th, 2024
Q4: July 15th, 2024